Apple Certified iPhone Repairs
As an Apple Authorised Service Provider, all our service centre technicians are trained and certified by Apple. Our service centres and working practices are subject to regular Apple quality control to ensure that we maintain the highest standard of customer care and technical expertise. Our service technicians will only use genuine Apple authorised parts.

Out of warranty repairs
We are able to facilitate out of warranty repairs on your iPhone. There is a non-refundable labour fee for any device that is out of warranty when booked in for service. Our charge for iPhone is £49.00. You will receive a quote for parts if required.
Same-day iPhone screen repair.
Cracked iPhone screen? We can repair your damaged screen and return your iPhone the same day. We use genuine Apple parts to deliver Apple-certified repairs, which are backed by Apple, so you'll get your iPhone back and working exactly the way it should. Bring your iPhone to us by 12PM, and we'll have it ready to pick up later that day. Same-day service is available for iPhone X, XS, XR, 11, 12, 13, 14 and iPhone SE 2nd and 2rd Gen.
Same-day iPhone battery replacement.
Same-day iPhone battery replacement service is available for iPhone X, XS, XR, 11, 12, 13, 14 and iPhone SE 2nd and 2rd Gen.
All of the above is Subject to demand and available Monday-Saturday in Cheltenham and Oxford and Monday – Friday in all other stores. The below pricing is dependent on your iPhone's condition, all devices will be inspected before the repair continues.
All other faults are quoted after diagnosis.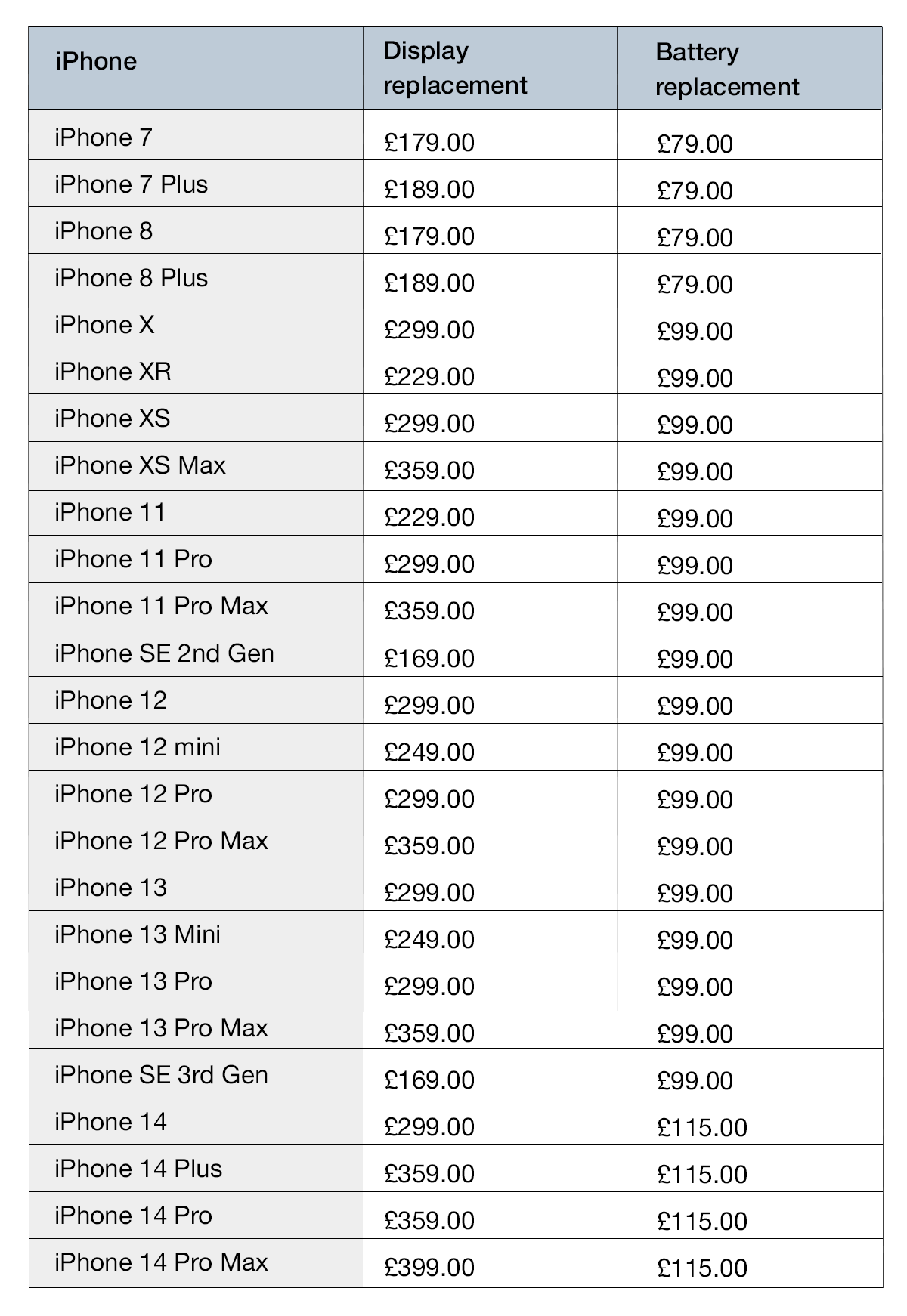 Before your visit
Please ensure that the below steps are taken, failure to do so may result in your device not being able to be worked on.
Find My turned off
Please ensure Find My is turned off on your device. If enabled when the device is being worked on, our service technicians will be unable to complete any work. Find out how here.
Back up your data
Please make sure you have a back-up of your data before your device is handed in for repair. Depending on the service required, data and applications stored on the device will be erased or the device may be replaced. To the extent where applicable by law, Western Computer is not responsible and cannot be held liable for any data or consequential loss that may occur as a result of the services we provide. For advice on how to back up your iPhone, please visit here.
FAQS
Read our frequently asked questions here.